SOLUTIONS FOR PARTNERS
Our partner programs give you a competitive advantage in the markets you serve.
Succeed.

Grow your business with innovative solutions.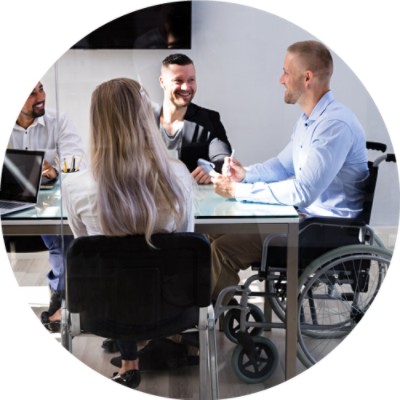 Compelling solutions for the markets you serve
Use our expertise, data, and technology to deliver solutions that solve your customers' problems
Help advance care quality, improve revenue performance, and increase patient and member satisfaction
Connect to virtually all payers and nearly all providers, pharmacies, and labs
Get customized solutions and services, plus the connectivity you need, from a single trusted partner
Expand.

Stand out in the market.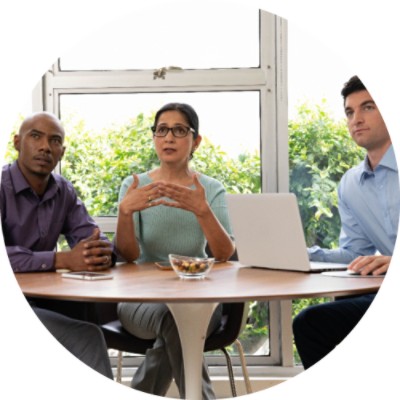 Enrich your portfolio to bring more value to customers
Add new clinical, financial, and engagement solutions to grow revenue faster
Differentiate your portfolio from the competition
Leverage our scale to accelerate your time to market
Eliminate the need to work with multiple vendors
Minimize risk through our extensive industry and regulatory expertise
A Word from Our Partners
Abeo

"As an industry leader, Change Healthcare plays a valuable role in assisting us with driving our revenue cycle business forward."

-Jody Hinton, Senior Vice President, Operations

Hyland Healthcare

"Aligning with Change Healthcare is exciting because our combined scale can deliver meaningful improvements to healthcare providers and payers looking to fully leverage unstructured content throughout their enterprises."

-Susan deCathelineau, SVP, Global Healthcare Sales and Services

Plexis Healthcare Systems

"Working with Change Healthcare enables PLEXIS to offer its payer clients solutions which help address much of the end-to-end lifecycle of claims management, cost containment, and decision support, saving time and money, and greatly reducing the burden of vendor management."

-Sean Garrett, C.O.O.

RxNT

"RXNT's Practice Management solution with integrated processing from Change Healthcare means that physician practices and billing companies are able to bill faster and more accurately, leading to fewer denials, reduced A/R, and a more productive staff. The bottom-line effect for providers and billing companies is that the RXNT-Change Healthcare partnership enables them to reduce costs and increase revenue."

-Tom Collinson, EVP Business Development

Zenith Transaction Services

"The tight spot in the revenue cycle hour glass is EDI. Change Healthcare consistently navigates this challenging space with aplomb. The service offering includes exciting new concepts such as edits driven by artificial intelligence. At the same time the rigor and reliability of the traditional core claims and remittance processing remains top of mind. As important, Change Healthcare understands the need for accessible and responsive professional internal contacts which can assist in ensuring end user satisfaction. Our high opinion of Change Healthcare continues to grow."

-Matthew F. Gockerman, Director – Corporate Services

Advanced Data Systems Corp.

"Perhaps the most critical hurdle for any specialty is getting paid. Advanced Data Systems Corp. (ADS) clients comprise thousands of system operators who process hundreds of millions of EDI transactions annually via Change Healthcare, ensuring they're paid the maximum for every claim. Being on the Partner Advisory team, we're able to beta test new products putting ADS and our clients at the forefront of new and powerful EDI solutions. ADS is excited to be testing Change Healthcare's new Claims Lifecycle Artificial Intelligence (AI) technology enhancement as part of their already robust claims management suite. Assurance Reimbursement Management™ Denial Propensity Scoring and Revenue Performance Advisor Denial Prevention will allow our clients to proactively identify claims that could result in denials, and remediate potential issues before submitting those claims. Tools such as these, and our partnership with Change Healthcare, bring extraordinary value to our client base."

-Sheryl Miller, EVP Sales & Business Development

Mphasis Eldorado

"The partnership between Mphasis Eldorado and Change Healthcare has been in existence for years and continues to grow and evolve with the healthcare marketplace. We depend upon their partnership for practical solutions as well for their vision into solving tomorrow's problems – we are jointly focused on using advanced technologies to avail relevant information and tools to support members as they make healthcare decisions which are right for their lives. We are better together than apart and the energy in the partnership has never been higher."

-Sally Else, President

Brightree

"Through the relationship we've built with the team at Change Healthcare, Brightree has processed hundreds of millions of claims via Change Healthcare. This collaboration enables our customers to quickly and efficiently get the reimbursements they've earned."

-Steve Rogers, VP Product Management

MDConnection (La Jolla Digital, LLC)

"I was tasked with finding a new clearinghouse. I decided on Change Healthcare and it was one of the best business decisions I've made. Everyone was so helpful with the implementation process ensuring a smooth transition for my business. Change Healthcare is a great company, I am very pleased with the services they provide, and I look forward to partnering with them for many years to come."

-Clark Terrill, CEO

MEDENT

"Making our clients happy and efficient is certainly a priority for us.... partnering with Change Healthcare has enabled us to provide enhanced product and services to our customers. The responsiveness, knowledge, and expertise the Change Healthcare team brings to the table is lending to our success as an organization."

-Barbara E. Cuthbert, Vice President of Sales & Marketing

ClearCare, a WellSky Company

"We are entering a revolution in personal care, wherein health plans and hospitals recognize the impact that interventions as simple as food preparation or help with simple, non-medical activities of daily living can have on their highest utilization patients. As the hurdles to reimbursement for home care are removed, ClearCare powered by WellSky is ready to help personal care agencies across the country facilitate operations and streamline payments for their invaluable services. By collaborating with Change Healthcare, we are able to create a remarkably efficient, accurate, and easy-to-use system, providing a critical piece to our platform as agencies need it most."

-Geoff Nudd, CEO

Hinge Health

Companies in the digital health space are trending toward using more purpose-built APIs to manage specific parts of the patient access and billing workflows. We're using Change Healthcare's Eligibility API to verify new applicants across multiple payers and deliver speedy implementation for our customers.

-Nathan Swartley, Director of Product 

PatientPal

Change Healthcare has enabled PatientPal to provide our customers with the information they need in order to determine insurance eligibility and benefits in real time. Not only do they provide the best APIs in the industry, but they also provide an unparalleled level of support, and are always there to assist with any issue. Change Healthcare's data quality and reliability, along with their nationwide coverage, allows us to offer our customers exactly what they are looking for at a price that can't be beat.

– Adam Vartikar, CEO and Co-Founder 

Florence

As a healthcare provider that uses technology to enhance our patient and clinician experience, Florence is always looking for ways to discover and use trusted solutions.   Accessing Change Healthcare's portfolio of APIs on AWS Marketplace has allowed us to quickly learn about and purchase the APIs that have refreshingly modern tech specifications, easy-to-understand pricing, and a simple contract.  Using the on-demand purchasing method has been an extremely effective and efficient on-ramp for us to enter Change Healthcare's product universe before making a large investment and commitment, which we are ultimately now making.  Florence has reduced the time it takes to contract and implement these solutions, enabling us to deliver more value to our patients.

-Jake Halpert, Founder and CEO 

Simple SEO Group

Simple SEO Group is a design, development, and marketing agency that helps companies streamline operations through customized software solutions. The company needed a secure healthcare API solution that was HIPAA compliant and could improve insurance verification for healthcare clients. By procuring Change Healthcare's insurance API in AWS Marketplace, Simple SEO Group was able to achieve its corporate goals. The API enabled the company to develop custom software solutions for medical professionals that reduced administrative headcount, saved money, and enhanced the patient experience. The tool was easy to deploy from AWS Marketplace and is one that Simple SEO Group expects to use for future integrations.   Change Healthcare's Insurance Eligibility API automated the insurance verification process – reducing it from 30 minutes to 30 seconds or less.

-Brendan Egan, Founder and CEO 

Grow Therapy

As a technology-enabled mental health group, we are on a mission to help clients find affordable mental healthcare. Change Healthcare supports our efforts by providing a developer experience where API functionality is easily explored, tested, and purchased –– which not only allows us to make the connections that our customers need, but saves months of development time and expense.

-Jake Cooper, CEO 

Autism Technologies, Inc.

Astrid is a measurement-based care platform.  Just after the integration of Astrid's AI-powered reporting system and Change Healthcare's revenue cycle management API's we were able to identify and help recover over $300,000 for one of our largest clients.  We're excited to continue to expand our services offering while leveraging Change Healthcare APIs to support our growth and our mission of helping service providers and families ease the process of caregiving for individuals with autism spectrum disorder. 

- Jim Tafur, CEO and Co-founder 

WeInfuse

Change Healthcare's APIs help consolidate and manage transactions with a plug-and-play format. These solutions streamline the intake process for eligibility and benefits verification, claims submission, processing, and payments.

- Reece Norris, Co-Founder & COO 
Join Community discussions
Find and share knowledge, exchange ideas, and collaborate with peers and Change Healthcare experts to drive your solutions to success.